Length: ' " | Slide-outs: | Sleeps: | Dry Weight: 0 lbs
Only $0 / Bi-weekly o.a.c.
Only $0 / Bi-weekly o.a.c.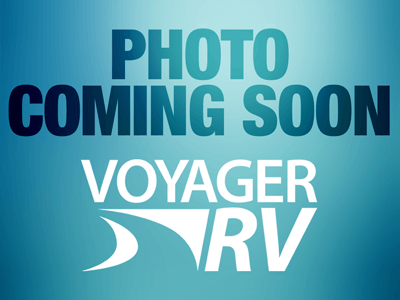 Values are an approximation according to the manufacturer's brochure - certain installed options may change these specifications.
| General Specs | |
| --- | --- |
| New/Used | Used |
| Approx. Dry Weight as built | lbs. |
| Approx. Hitch Weight | lbs. |
| Length | ' " |
| Height | ' " |
| Capacities | |
| --- | --- |
| Fresh Water | gal. |
| Black Water | gal. |
| Grey Water | gal. |
| Interior Specs | |
| --- | --- |
| Number of Slides | |
| Dual Pane Windows | No |
| Sleeps | |
| Bed Layout | N/A |
| Bed Description | N/A |
| Bunk Type | N/A |
| Dinnete Type | N/A |
| Outside Kitchen? | N/A |
| Cargo Length | ' " |
| Engine/Chassis | |
| --- | --- |
| Engine | N/A |
| Chassis Make | N/A |
| Fuel Type | |
| Odometer | 0 |
Videos for this unit.
Please Note: Interior and Exterior colors, and/or features & options may differ slightly from our in-stock models.
TESTIMONIALS
Thanks to you and all your staff that made this purchase feel great. Kerrie and I will pass on the great customer service to other friends who might be in the market for a new/used RV!

Dave and Kerrie H.

We traded our 2006 Jayco travel trailer on a new Jayco Redhawk 31XL. The sales department has been excellent great price out of the gate without the need for a lot of negotiations. I really appreciate a dealer that gives everyone the best price possible fist. Looking forward to many years of happiness in this new motor home. Cheers

Mike C

Merrill and I had a great return camping trip home. Thanks to you and the crew at Voyager. We have already started to spread the word about our experience with you and your team. Every detail from money to mechanical and the booking of our first campsite was incredible. Anyone that I talk to about campers definitely knows who Voyager RV is now. We will send you all the business we can, including ...

Lawrence and Merrill D.

I just wanted to take this opportunity to let you know how pleased we are with the work we had done there on our return from the States. I love the new sink! So much easier to clean. The staff in Service was courteous, efficient and so easy to deal with. We are very happy and just wanted to thank you and all those who worked on our 5th wheel. Cheers,

Karen and John B.

Just wanted to say thanks for everything! The trailer is awesome! Dodge pulled it no problem, had a sweet time camping no problems or issues, hassle free weekend! So thanks again for making it possible we really appreciate everyone over at voyager rv. We're so pleased!

Kaylee E.

lt is my pleasure to send this letter of gratitude. We have been buying vehicles of one type or another for 50 years and we have never been so pleased as with the staff and service at Voyager R.V. For the past 2 years we have been searching for a new or newer R.V. Our first encounter at voyager was with Jon Newton, we were and stlll are so impressed with him. He is without a doubt the most accommo ...

Jim & Lynne D.

We are loving our Springdale!! Were gearing up for camping season. Thank you for reminding me about roof inspection were heading down in July to your neck of the woods and closer to summer i will touch-base with voyager to schedule an appointment. Thanks again,

Sherry

Trailer towed like a dream we camped in Merritt lundbom lake provincial park. Snowed an inch overnight!Furnace came in handy. I felt like I was treated like gold by every single member of the staff at voyager. It was a pleasure to purchase such a large investment from voyager RV. Thank you very much.

David

Thank you for your exceptional professional work that you have done for us. You did not sell us a trailer, You helped us buy one. We had just come from another dealer site, where they were so fixated on how good they are and would not listen to a customers opinion, we simply got up and left. While, you on the other hand, came out and met us, and talked about your own experience with RVs and brough ...

Ken & Sandra S

The salesperson and the person who gave us the orientation on how to operate the unit went out of their way to help us. We couldn't have asked for better service. They even fixed a problem I had with the wiring on my vehicle. We couldn't take advantage of the Holiday Park 3 for 1 deal, because we bought a tent trailer. But all other service was absolutely excellent and I have told all my friends a ...

Bertha K.

Just wanted to say THANK YOU again for all your help with our new coach. We absolutely love it ! We made it to halcyon hot springs on the 8 pm ferry. Just an hour behind our kids. Please thank everyone who took part in helping us get moved and on our way. Greatly appreciated! Sincerely yours

Diane

We have just purchased a new RV at Voyager, and we were so impressed with the service and in particular, with the attitude of everyone with whom we interacted. From our salesman to the accounting folks, the service technicians, and the parts folks, we found everyone so pleasant and helpful. It is very clear that they enjoy what they do, and that makes the experience of dealing with them a true ple ...

Doug and Carol

I just wanted to drop a quick line to thank you for ALL your help with Isla's wish! Her family posted a picture of her with her new trailer on our Facebook. I really can't thank you guys enough for your help with BOTH of our recent trailer wishes. Thanks

Andy K - Children's Wish Foundation

Thanks for all your assistance. We were both impressed with all your staff, on how helpful everyone was. We left there feeling well taken care of and much more knowledgeable about our rv. We would recommend you to anyone that is looking for a rec vehicle.

Orville Z. & Jeannine G.

We got home with no problems and the truck pulled the 5th wheel easily. Now we can hardly wait to get out camping, hope it's a really early spring. Would also like to thank everyone at Voyager RV, from the moment we came through the door until we drove off the lot with our RV we were treated wonderfully. We definitely would recommend Voyager RV to anyone looking for a trailer and we would not hesi ...

Susan H.

We really appreciated the superb service we received, from our salesman to the fellow who attached our hitch to the truck. Everyone was so nice and helpful. We are also so thankful that Voyager RV was able to get our financing and RV ready, along with the walk through on the same day that we arrived to purchase it. Voyager RV has the best service and in the future when we buy another RV we will go ...

The Osmonds

Ed and I are delighted with our purchase of our 5th wheel from Voyager RV. You gave us great service and it was a pleasure dealing with you yourself. Thanking you

Ed and Margaret L.

Everything has been great with the trailer. We've been out 5 weekends and we have nothing but good things to say about it. Absolutely no issues so far. May have some friends coming down in the fall or spring of next year looking for the same trailer (2015). They have an older Jayco and really like our layout and quality. I've mentioned your name so hopefully things will work out for them.

Jeremy C.

Never before have we received the extreme customer service that we received from your company. Most places try to rush you out the door and then you are back there getting the same problem fixed time and again. We did not experience this at your business, rather the exact opposite. They kept telling me "You are not leaving here until this unit is safe to move".

Paul & Lori J.
Read more...