RV Parts Specials
Amazing Online-Only Parts Deals!
Lynx Levelers (10 Pack)
Lynx RV Levelers are safe and easy to use whether out on the highway or in the driveway. They're good for multiple RV applications both under wheels and under jacks.
Outland Firebowl
Reg. $144.99


SALE $109.99
AVAILABLE IN STORE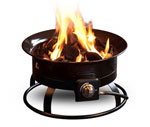 The Outland Firebowl has the sentiment of a traditional campfire, without the tireless back bending and fabric clinging smoke! Adding an authentic ambience to any atmosphere, the Standard Outland Firebowl is portable and convenient.