Voyager RV Sales Staff
Our sales staff is an exceptional group of individuals, who are a big reason why Voyager RV has such a great reputation. These RV Product Specialists have been hand-picked because of their RV knowledge, and their outstanding ability to really care and understand what our customers are looking for, and how to get you the best value. Have a read below to find out about each of them...you'll see they all have their own unique stories! Choosing a new RV can be daunting. These folks will simplify it for you, and make it fun as well! (because why shouldn't it be?)
Mike Ruscheinsky
Sales Representative
Mike has worked in the RV industry since 1986 and could not think of a better career to be in. In his free time, he loves to take out his RV and boat along with his wife, kids, and grandkids to enjoy everything the Okanagan has to offer.


Brian Biccum
Sales Representative
Brian has caught the 'RV Bug' and looks forward to another amazing summer in the sunny Okanagan. He describes work at Voyager RV as a "whole lot of fun, where a little work breaks out". In his spare time, Brian loves to golf, go to the beach and enjoy the great outdoors with his wife and 2 Labs. Hit 'em Straight, Hit 'em Long!
Ryan Serwa
Sales Representative
Ryan chose to work at Voyager RV because he felt they provide the top brands in the industry and their customer service is second to none. He has been around RVs his entire life and his aim is to provide every level of RV'er with honest and accurate information to help find them the best RV possible for their needs. Ryan especially enjoys selling luxury 5th wheels. He is also a big fan of exploring the Kootenays, Rockies and the Okanagan. He served with the British Columbia Dragoons - as an officer - and loves meeting armed forces members and learning their story.
---
Rich Wilkins
Sales Representative
Rich moved to the Okanagan from Revelstoke in 2000. He brings years of management and customer service experience from the Banking Insurance and Real Estate sector. Rich is a long time provincial camper, and enjoys spending time in local destination spots like Nakusp Hot Springs, Kokanee Creek Park, Ainsworth and Nelson in his 24ft Travel Trailer. Rich loves the Okanagan climate and lifestyle with roots in sports having raised 2 grown kids in a sports active family. Today Rich stays fit playing in a 55+ soccer league, doing Yoga and working out. At the end of the day Rich is a traveller at heart and helps customers find the perfect RV to fit their next "road trip" adventure!
Deb Thiessen
Sales Representative
Deb has always wanted to sell RVs mainly because she's enjoyed so many good times with her husband and two kids in her own units. Ranging from the tent trailer, hybrid trailer, travel trailer and finally the 5th wheel. Deb moved to Kelowna from Canmore Alberta in 2009 for the sunshine and the wine. When not working she can be found kayaking on the lake, hiking or exploring the local wineries.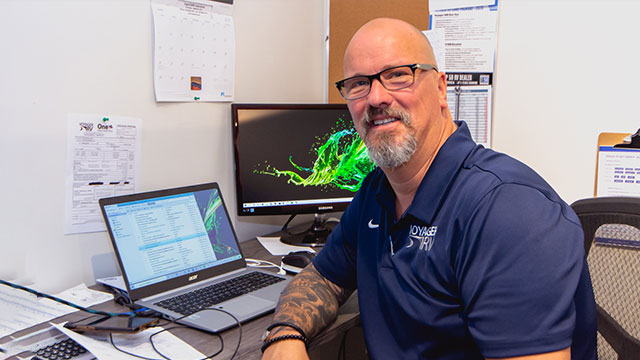 Rob Ketting
Sales Representative
---
Jason Bouchard
Sales Representative
After 20 years in the banking industry in various management and advisory roles Jason decided to pursue his passion of helping customers find their perfect RV. He was raised in Kelowna and enjoys spending free time with his young family and wife at their RV lot at Shuswap Falls. As a long time member and previous President of Junior Chamber International (JCI), Jason believes in being an active citizen in his community and has participated and led many charity events.
Brigitte Zinck
Sales Representative
Brigitte was born and raised in Scotch Creek, which is camping country, where she enjoyed both marine and land camping with friends and family. When she was younger, she backpacked in Africa, Europe, Venezuela, and Panama. When travel plans go sideways her belief is that they can make the best stories around the campfire. Although she still has an extensive bucket list for travel, she now admits that sleeping in a comfortable travel trailer is much more appealing than setting up a tent in the rain. When she is not working, she can be found enjoying all that the Okanagan has to offer including hiking, biking, skiing, and of course camping (and drinking wine). She is also an active member of the Vernon Student Association at Okanagan College where she completed her Associate of Arts Degree and is currently completing her Bachelor of Business Administration. She looks forward to helping you find your perfect RV and hearing about your travel adventures
Robert Connolly
Sales Representative
---
Mike Roberts
Sales Manager
Mike started his career with Voyager RV in April of 2012. In December of 2016, Mike took on the exciting new responsibility of Sales Manager. As a lifetime RVer, he considers this his dream job. Mike lives for his family, RVing and his Motorcycle, which he has found a way to combine. With two grown children he now enjoys exploring his own backyard with his wife Natalie.
Jason Smith
E-Commerce Manager
Jason has been in the RV industry since 2002 where he sold RVs at a dealership in Alberta. In 2007, he and his his wife Carmen re-located to the Okanagan to join Voyager RV and never looked back. Now as the e-Commerce manager he works in conjunction with the sales team to continuously improve the experience our online guests receive from the dealership.