VOYAGER GIVES BACK
We're thrilled to announce the return of our Voyager Cares Initiative in 2023!
Our staff recently voted on the local charities that mean the most to them, and we've named the top 8 who will benefit from this year's initiative! Plus, every RV sold this year will give back even more money - and our goal is to exceed $100,000 in donations.

This year's Voyager Cares charities are:

Kelowna Community Food Bank
Canadian Mental Health Association
Kelowna Hospice House Central Okanagan
Mamas for Mamas
Heart & Stroke
BC Cancer Foundation
Paws it Forward
Critteraid.
We invite you to join us in supporting these fantastic organizations doing amazing things for our communities!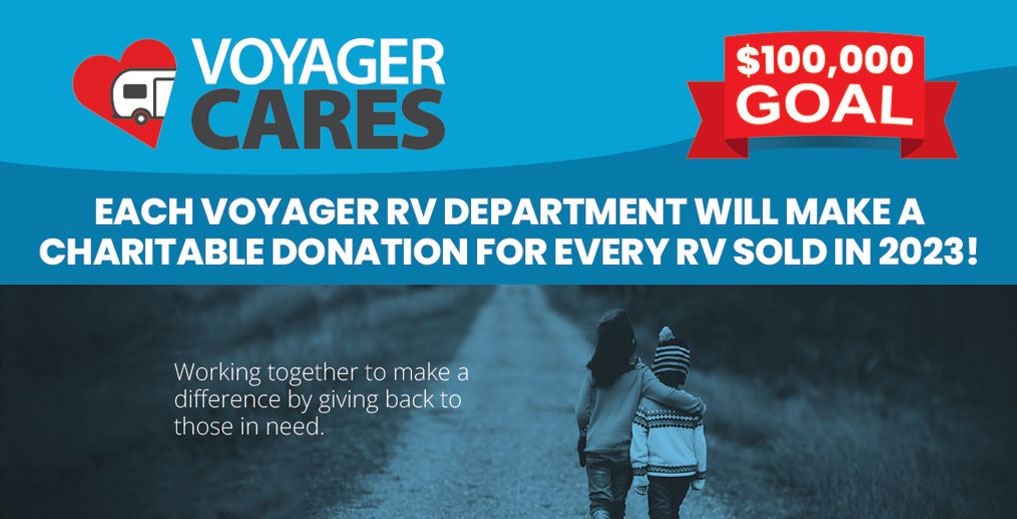 ---
In 2019-2020, the inaugural Voyager Cares was a huge success, resulting in us donating $103,000 split between 8 amazing local charities - as a way to help say a big Thank You to the communities that support us.
These charities are:
Central Okanagan Food Bank
BC Heart & Stroke
Alzheimer Society
BC Cancer Foundation
Mamas for Mamas
ALS BC
Kelowna Women's Shelter
Child Advocacy Centre.
We can't thank you enough for helping us say a big thank you to the communities that support us!
Preston-Gosselin kids Run to Cure Cancer
Canuck Place Children's Hospice
Children's Make-a-Wish Foundation
Leader Sponsor Canadian Cancer Society Daffodil Ball
Community Hero Program
Canadian Breast Cancer Foundation
Canadian Breast Cancer Charity
Justice Institute of BC Paramedics Academy
Kelowna Minor Hockey Association
Kelowna Men's Soccer league teams
Kelowna Women's Soccer league team
Excel Insurance Agencies - Senior Men's Golf Tourney
RV Lifestyles Seminar
OJC Golf Tournament
Mel Kotler Memorial Golf Tournament
Lake Country Artwalk
Lake Country Customs and Classics Car Show
Okanagan Mission HS Dry Grad
Okanagan Mission HS Grad Fashion Show
Nick Tresnich Memorial Firefighter's Golf Tournament
Doug Kuntz Memorial/Cancer Fundraiser Softball Tourney
Kelowna Sunrise Rotary Club
Kelowna Major Midget Hockey Tournament
KSS Best of the West Basketball Tournament
Mount Boucherie HS Alumni Basketball Tournament
Okanagan Sun Junior Football Team
Okanagan Athletics Baseball team
BC Provincial Volleyball Championships
OUC RV Technician's training Program
RVDA of BC
OK Dwarf Car racing

TOP