Introducing Mobile On-Site RV Service
Full RV service and repairs. Your site or ours.
The whole point of owning an RV is that you can use it to explore life on the open road. But what happens when your RV is grounded because it needs servicing or repairs? Voyager RV, The Kelowna RV service experts have just the thing to get you up and running again: mobile RV service.
Repairs (wheels, brakes, bearings and more)
Maintenance
Inspections (lights, seals, exterior, roof)
Propane system testing
Warranty and insurance repairs
Whether your RV is in Uncle Joe's field and you simply need an RV appliance check, or your brakes were acting up on the way to your favourite weekend spot, Voyager RV's house calls offer the height of convenience.
Area Coverage & Service Call Rates
Click on the area coverage map for Service Call Rates in your location.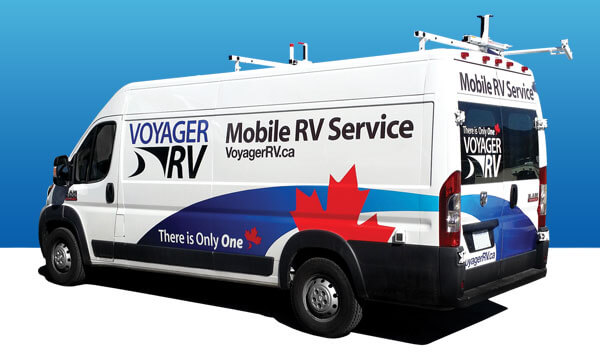 Call 1-800-668-1447 to book your Mobile RV Summerize Special Today!
Meet our Red Seal RV Service Technicians
Whether it's a motorhome, fifth wheel, tent trailer or utility trailer Voyager's mobile technicians can fix it. Our certified Red Seal RV Service Technicians and their well-equipped vans make a formidable problem-solving team. To book an on-site appointment, Call 1-800-668-1447, CLICK HERE TO TEXT US , or email: MobileService@voyagerrv.ca
Don't forget about gas testing
If you're buying a used RV with a propane system having it gas tested will give you the peace of mind your RV meets provincial saftey regulations.
We've got parts too
Voyager's mobile service is backed by an extensive parts store that provides everything needed to repair gas, plumbing and electrical systems, as well as the latest RV and camping accessories.
If you need on-site repairs to get your RV going, or you simply like the convenience of an at-home service call, contact Voyager RV, the Kelowna RV service experts to book your appointment. CALL 1-800-668-1447, and ASK FOR MOBILE SERVICE! OR Simply CLICK HERE TO TEXT US
Request an appointment by filling out this form below:
*Eligible Mobile RV Service territory is from Armstrong - to - Peachland.
**Service Call fees vary according to distance traveled