Discover the Winnebago Difference
With nearly six decades of experience, Winnebago Industries is a beacon of excellence and innovation in motorhome manufacturing. Their commitment to quality and cutting-edge design places them at the forefront, offering an extensive range of Class A, B, and C coaches crafted to surpass industry standards.
Winnebago's relentless pursuit of improvement is evident in its ever-evolving product line and superior customer service, solidifying its position as the premier motorhome manufacturer. They don't just build motorhomes; they cultivate experiences, ensuring safety and high quality in every journey you undertake.
So why explore elsewhere when the pinnacle of motorhome craftsmanship is at your fingertips? Experience the Winnebago difference and understand why they remain the top choice for adventurers seeking quality and reliability in their travels.
Embrace the open road with Winnebago - where every journey becomes unforgettable.
---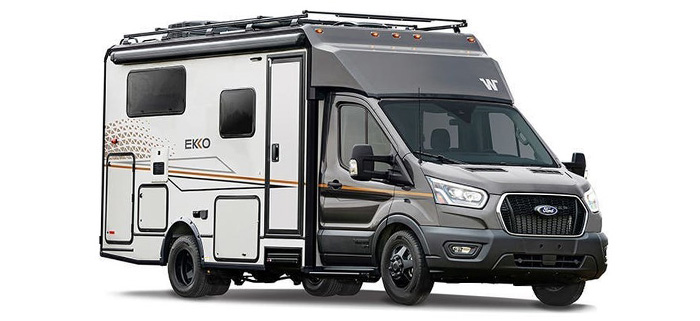 Introducing a new breed of RV: Winnebago EKKO
Experience the all-new Winnebago EKKO, the RV that's redefining adventure. This innovative model combines the best features of a camper van and a Class C coach, all powered by an AWD Ford Transit Chassis with a 3.5L EcoBoost® V6 engine. With its off-grid capabilities and solar power options, you can explore further and stay longer.
The EKKO comfortably accommodates up to four people, making it ideal for any getaway. Its optional pop-top offers additional sleeping space, while the heated pass-through garage keeps your gear safe. For those who love outdoor cooking, an optional kitchen is available.
Designed for all seasons, the EKKO has extensive insulation, dual-pane acrylic windows, and heated compartments. So why wait? Shop today and start your journey with the Winnebago EKKO!
« Back to Our Manufacturers
---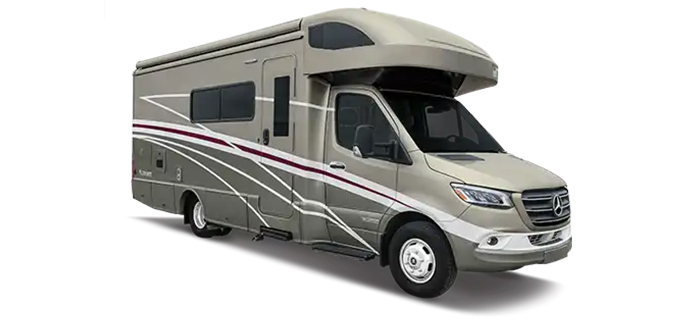 Winnebago Navion: The Epitome of Luxury and Efficiency
Discover the perfect blend of luxury and efficiency in the Winnebago Navion. Powered by a reliable Mercedes-Benz® Sprinter chassis, it's ideal for your off-grid adventures. The Navion's upscale interior, robust systems, and ample storage make it a standout in Class C motorhomes.
Enjoy the comforts of home on the road, thanks to its premium furnishings and 200-watt solar panels. The SuperShell™ Sleeper Deck offers superior insulation for a quiet, comfortable journey. With up to 43 cubic feet of exterior storage, you'll never leave anything behind. Experience the Navion, where luxury meets efficiency in the most delightful way.
« Back to Our Manufacturers
---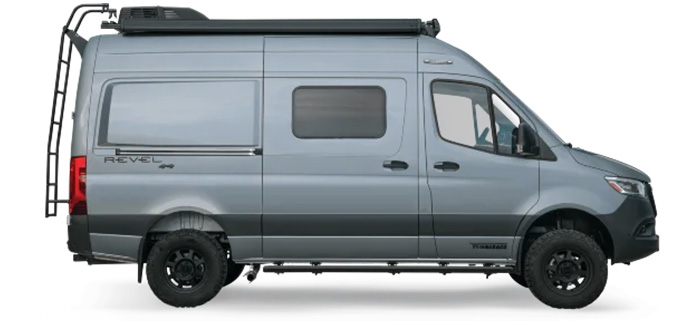 The Winnebago Revel: A New Wave of Adventurous RVing
Meet the Winnebago® 4x4 Revel®, your ticket to boundless adventure. Built on a Mercedes-Benz® Sprinter chassis, it's powered by a 3-litre turbo diesel engine and on-demand 4WD, perfect for off-road explorations.
This camper van is ready for anything with its LiFePO4 energy system, solar power, and hydronic heating system. Add user-configurable storage and a power lift platform bed; you're set for any journey.
The Revel doesn't just conquer trails, it keeps you comfortable, too. Enjoy outdoor dining with a fold-down exterior table and portable induction cooktop. Stay cozy with extensive insulation, a diesel-powered heating system, and an efficient Bluetooth® controlled air conditioner.
Safety and convenience are at the forefront with adaptive cruise control, blind-spot monitoring, and a touchscreen multimedia center. Revel in the freedom of the open road with the Winnebago Revel. Your adventure awaits!
« Back to Our Manufacturers
---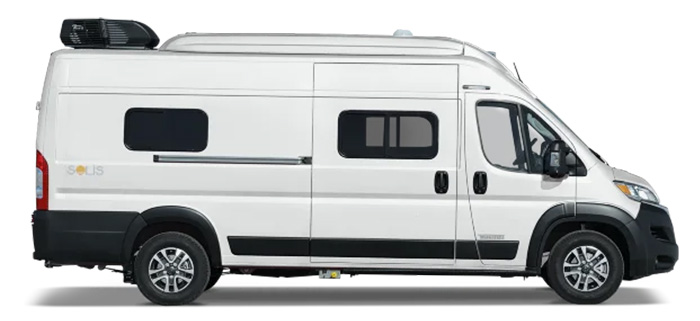 Freedom of Flexibility with the Winnebago Solis
Introducing the Winnebago Solis, your perfect partner for every adventure. From hills to beaches, this camper van adapts to all terrains and budgets. With room for six, it's a family car by day and a cozy retreat by night.
The Solis is all about flexibility. It's ready for family trips or adventurous getaways, complete with a kitchen, dinette, and bathroom. At the end of the day, turn the key, and you're home.
It offers ample sleeping space with its pop-top and Murphy+ bed. Need to work? No problem! The movable pedestal table becomes your workstation. Plus, the oversized gear garage has room for all your equipment.
Sleep under the stars in the 59P and 59PX models, or enjoy the multi-use dinette that converts into a bed in the 36A model. With the Winnebago Solis, flexibility is at your fingertips. Experience the freedom and start your journey today!
« Back to Our Manufacturers
---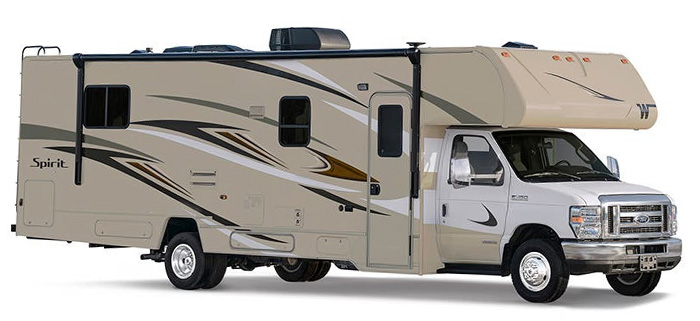 The Freedom of Travel with the Winnebago Spirit
Ready for an adventure? The Spirit, a Class C model from Winnebago, is your perfect travel partner. Choose from six unique floorplans, each packed with space for your family and gear. With the Spirit, outdoor fun meets home comforts.
This family-friendly motorhome is your hub for all things fun. Plan the day's activities in the comfy lounge or cook meals in the well-equipped kitchen. Need flexible sleeping options? We've got you covered with various bed configurations.
Enjoy your downtime in our cozy Spirit lounge, with swivel cab seats (31K) and optional Theater Seating (26T, 31H, 31K). Built on a reliable Ford® E350/450 chassis with a powerful 7.3-liter V-8 engine, the Spirit makes every journey a breeze.
Ready for your next adventure with the Winnebago Spirit? Start today!
« Back to Our Manufacturers
---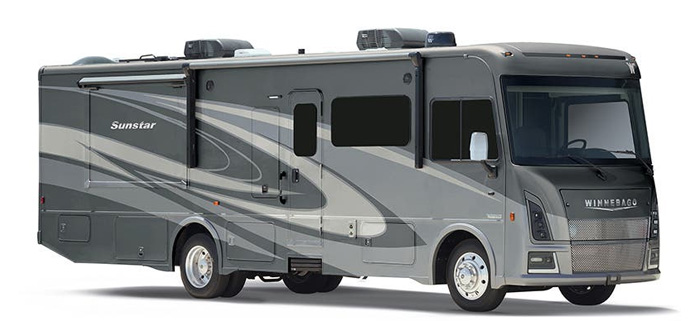 Introducing the New Winnebago Sunstar
Meet the updated Winnebago Sunstar, a Class A gas coach combining style, comfort, and quality. Its spacious interior is perfect for relaxing and entertaining during your travels.
The Sunstar is leading its class and features unmatched storage capacity, large holding tanks, and unparalleled views through its one-piece windshield. Enjoy a spacious lounge with luxury Ultrafabrics® Select furnishings and an optional powered StudioLoft™ bed.
Manage your coach systems easily with the Winnebago Control™, available through a control panel or mobile app. Upgrade your style with the "High-Rez" Exterior Package, featuring premium paint and LED lamps.
Enjoy beautiful views through tinted, frameless windows. Choose the new Winnebago Sunstar - making your journey as enjoyable as your destination.
« Back to Our Manufacturers
---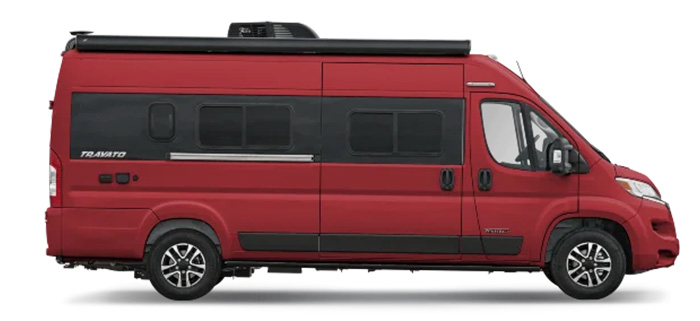 Embrace the open road with the Winnebago Travato
Join the ranks of North America's top camper van enthusiasts with the fuel-efficient and feature-packed Winnebago Travato. Designed for extended camping seasons, the Travato offers convenient storage, daily driver capabilities, and the optional Pure3 Advanced Energy System for off-grid adventures.
Built on a robust RAM ProMaster® Chassis with a 280-HP 3.6L V6 engine, the Travato combines power and efficiency. Enjoy features like a powered patio awning with LED lighting and Bluetooth control, a side screen door with magnetic closures, and efficient hot water and coach heat from the Truma Combi® Eco-Plus.
The Travato's Pure3 Energy Management System provides over 9,000 watt-hours of usable power, perfect for all-weather camping. Weather-protected waterlines, heated tanks, and a reliable HVAC system ensure comfort in any season.
Experience the open road like never before with the Winnebago Travato.
« Back to Our Manufacturers
---

TOP