2023 Winnebago Spirit 25B
Length: 26' 4" | Slide-outs: 0 | Sleeps: 6
Reg. $182,995
Voyager Price $157,730
Only $737
/ Bi-weekly o.a.c.
Reg. $182,995
Voyager Price $157,730
Only $737
/ Bi-weekly o.a.c.
ON ORDER - APPROX LATE OCTOBER
PRE-RESERVE THIS RV TODAY!
PHOTOS AND VIDEOS NOT EXACT UNIT
2023-Model Ford E450 Chassis 350-hp
7.3L V8 Engine
TorqShift 6-speed automatic transmission w/overdrive
4-wheel ABS
Cab seats w/Ultrafabrics UF2 Premium
CSA Standards
Electric Stabilizer Jacks
Spare Tire
Dual Glazed Thermal Windows
Leatherette Cab Seats
Catalina Exterior Graphics w/Champagne Fiberglass
Walnut With Charcoal Ultrafabric and Starr Interior
Trailer hitch 7,500-lb. drawbar/500-lb.
Stainless Steel wheel liners and valve extenders
Distance alert
Driver monitoring
Forward collision warning
Lane departure warning
Post-collision braking
Tire pressure monitoring
Amplified digital HDTV antenna
MCD Roller Shades (lounge, dinette, and
bedroom)
Systems monitor panel
Front wraparound curtain
Tinted windows
Vinyl ceiling
USB charger (dinette and bedroom)
LED lighting
32" HDTV w/DVD player
Corian Solid Surface Countertops
Microwave oven w/touch control
Double-door refrigerator/freezer
Toilet w/foot pedal
Airbags driver and passenger
Power steering w/tilt and cruise control
Power door locks
Radio/Rearview monitor system w/integrated 8.95" multi-function touchscreen monitor and rear color camera, Bluetooth, Apple CarPlay, Android Auto
Mirrors w/defrost, remote and video camera
Remote keyless entry
Auto headlight control
Electronic stability control
Hill start assist
Traction control
Adaptive cruise control
Automatic emergency braking
Auto high beam control
24" Bedroom TV
Powered patio awning w/LED lighting
Molded front cap
Ladder
Coach battery disconnect system
Automatic dual-battery charge control
4,000-watt Cummins Onan Microquiet generator
2-deep cycle, Group 24 battery
Auxiliary start circuit
AC/DC 1,000-watt inverter
6-gallon LP water heater w/electronic ignition
Heated drainage system
Holding tank flushing system (Black tank only)
Permanent-mount LP tank w/gauge
12-month/15,000-mile basic limited warranty
36-month/36,000-mile limited warranty on structure
10-year limited parts-and-labor warranty on roof skin
No Dealer Fees!
$1000 Discount on Extended Warranty of Choice
$250 Parts Store Gift Certificate (Replaces any other GC offers)
10-Day No Hassle Exchange Privilege (conditions apply & n/a if purchase includes a trade-in)
15% Off Parts, and 25% off all Service at Voyager RV, for as long as you own your new motorhome
5 Nights Camping at Your Choice of Campground ($300 max, Valid for 1st Year)
All RVs will be in "Ready To Camp" Condition - Full Pre-Delivery Inspections
Complete Detailing of the RV Interior and Exterior at our 5-Bay Detailing Centre
Complete Orientation and 1 Free Re-Orientation as Required
Exclusive 3-for-1 Stay at Holiday Park 5-Star RV Resort
Free 1-Year Roadside Assistance with any New or Used Motorized RV Purchase
Free Yearly Roof Inspections (Let us help protect your investment year after year)
Full Pre-Delivery Inspection - RV will be in Ready-to-Camp Condition
Full Propane System Inspection & BC Safety Certification Decal - FREE
Full Propane Tanks
Full Tank of Fuel
No Surprises, NO Added Fees! (Fees of up to $700 at other dealers)
One Free Service Call Fee (Within first 365 Days $125 Max)
Values are an approximation according to the manufacturer's brochure - certain installed options may change these specifications.
| General Specs | |
| --- | --- |
| New/Used | New |
| Approx. Dry Weight as built | N/A |
| Approx. Hitch Weight | N/A |
| Length | 26' 4" |
| Height | 11' 0" |
| Capacities | |
| --- | --- |
| Fresh Water | 40gal. |
| Black Water | 21gal. |
| Grey Water | 26gal. |
| Interior Specs | |
| --- | --- |
| Number of Slides | 0 |
| Dual Pane Windows | Dual Pane |
| Sleeps | 6 |
| Interior Color | Catalina Exterior/Starr Interior |
| Bed Layout | Not Walk Around |
| Bed Description | Corner Bed |
| Bunk Type | Over Cab Bunk |
| Dinnete Type | U-Shaped |
| Outside Kitchen? | No |
| Washer/Dryer Prep? | N/A |
| Cargo Length | N/A |
| Engine/Chassis | |
| --- | --- |
| Engine | 7.3L V8 Engine |
| Chassis Make | E450 Chassis 350-hp |
| Fuel Type | Gas |
| Odometer | N/A |
Videos for this unit.
Please Note: Interior and Exterior colors, and/or features & options may differ slightly from our in-stock models.
| | |
| --- | --- |
| Stock#: | W926 ARRIVING LATE OCTOBER |
| Condition: | New |
| RV Type: | Class C |
| Status: | On Order |
| Fuel Type: | Gas |
| Interior Color: | Catalina Exterior/Starr Interior |
Build Your Deal from Home!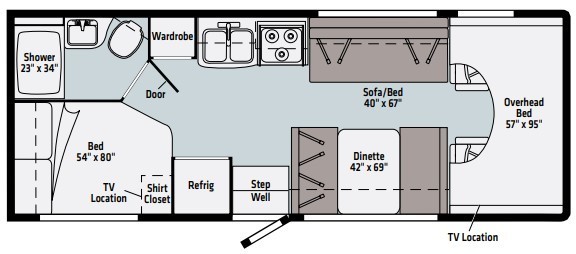 Get Your Lowest Internet Quote!
Set up a Virtual Visit
TESTIMONIALS
There are very few companies that truly "walk the talk" when it comes to providing the best possible customer service to their clients. Well, I can say without any reservations whatsoever, Voyager RV is truly a company that takes pride in providing the best possible experience to their clients. We recently purchased our second trailer from Voyager RV, a 2016 40' Grand Design 5th wheel. Both times ...

Randy & Colleen

Recently purchased Grand Design Reflection trailer. Dealt with Mike Ruscheinsky. He was very professional, knew his product and answered all our questions and concerns. Would recommend him to anyone. The technician that attached the towing hitch also was very professional, personable and was thorough in the information he provided. All in all two real good people to deal with. This was our second ...

Harvey & Karen C.

I bought a 750 HS from Mike R. at Voyager site unseen based on some phone calls and emails. I drove from Vancouver Island and picked up the perfect camper for my needs. The staff were amazing and I am so appreciative of the help and service. This camper gives me a level of freedom I absolutely love having , going to the bush with my dogs. They did some aftermarket modifications to the unit based o ...

Jonahs F.

We purchased our used (new to us) Surveyor Select from Voyager RV. Sales team was amazing, super friendly and knowledgeable. On the day we picked up our travel trailer the finance was smooth and easy. The service department gave us a detailed orientation and even setup my equalizer hitch an no extra cost. Ward Fraser was was amazing, he took the time to give us information on campgrounds in our be ...

Don & Shari C.

I would like to extend my sincere appreciation to Voyager RV for an phenomenal experience in buying my 2017 Pleasure Way Van. My sales representative Mike Ruscheinsky did an outstanding job, easy and pressure free to deal with, answering all my questions, concerns and even providing me with a "Homemade Video: of the unit. The Voyager RV team was so professional and accommodating in particular Lloy ...

Tim M.

Just a note of thanks for the great service and the experience including airport pick up. We are very happy with our new Class C. Please let Sheila know how much we appreciate her professionalism and help getting us through the paper work -most important part right. Thank you Voyager RV

Neil & Dorothy A.

My husband Rick & I want to send our heartfelt thanks to Voyager RV for making our Northern Lite camper purchase such a wonderful experience. All of your staff are exceptional. We want to especially thank Jason Bouchard who really went above and beyond to help us. He answered all of our many questions quickly and clearly, was always patient, kind and knowledgeable. The amount of time he spent (ev ...

Elaine & Rick H.

You all have definitely exceeded our expectations. We have never experienced such a great group of people under one roof. Ryan right from the day we stepped on the lot was attentive, respectful, very quick to respond even on his day off and best of all had a great sense of humour, Sheila and Cindy were both so helpful and also provided us prompt and knowledgeable service. Gord who provided us with ...

Ron & Betty

Jordie listened to our requirement and budget and showed us exactly what we asked for. During negotiations He made us feel like we were in partnership with Voyager rather than a we/them situation. Great to deal with. At pickup of our R.V. the orientation was good and the service tech was exceptional. It was great to have the trailer properly set up to the truck (hitch high, break away switch and h ...

Bryon & Deb H.

CANNOT EXPRESS HIGHLY ENOUGH ABOUT THE SERVICE. JASON & THE TECH WERE AMAZING AT EXPLAINING THINGS.

THE TEAM IS GREAT! BEST EXPERIENCE HE EVER HAD! John H.

Our buying experience From Voyager RV was nothing short of exceptional. As this was our first RV purchase we put allot of effort into researching Travel trailers and decided on Grand design Imagine. Ryan Serwa helped us to locate the floor plan we didn't know we wanted, until we saw it in person the 22MLE XLS. From start to finish Ryan has had our Best interest as a family in mind and was Genuin ...

Graham K.

Just wanted to give a huge thank-you to the entire staff at Voyager RV Winfield, truly a great team that compliment each other. Jordie delivered on everything he said he would and more, definitely went the extra mile. The finance crew was great and very efficient, even at our little meeting at Dollarama, LOL. We had our 5th wheel delivered without a hitch. Amazing skills to get our 41' unit in a t ...

Lisa & Rob J.

Thanks for making the repair happen, and IAN was a great guy, very nice. It is an excellent service VOYAGER provides. It was nice to have hot water and a shower again!

Thanks so much.Glenn & Linda J.

Dave and I just want to thank you and all the others in your department for the exceptional service we received last Tuesday July 9. Not only did we have some warranty work, a solar panel and a fantastic fan installed before we arrived but you worked in the time to add the hood for fan while we waited. Furthermore, your service department went above and beyond, fixing the equalizer bars so they hu ...

Susan & Dave

Recently we purchased an RV from your organization and we certainly wish to express our appreciation for the professionalism and excellence of the Voyager RV personnel. That includes you as you contacted us almost immediately after we enquired about an RV offering any assistance that we might need. The courtesy of this contact left us with a favourable feeling about Voyager RV. Thank you. From ...

Mike & Linda

Thanks for the call and setting things up for an appointment so quickly. Its no wonder you guys won Gold in the Best of Kelowna rankings (I voted for you too!) - always top drawer service right from the purchase experience through the service assistance. Have a great week,

Tom

The Voyager technicians were very knowledgeable and professional with us. They took the extra time and made sure we were 100% satisfied. They even followed up the next day to make sure all was OK. They went the extra mile and requested on our behalf a refund for the hot water part and time spent on it. We are proud to own a Lance trailer and show the product. Thank you again for your attention and ...

Lyne & André

Good Day Mr Friesen, My name is John S. and along with my wife, Bonnie S. we just wanted to drop a line to you to provide some feedback from our experiences at Voyager RV. I am a firm believer that if a business does a bad job, they should be made aware of it, also, if a business goes above and beyond when dealing with their customers, these points should also be brought forward. So, allow me to ...

John & Bonnie S.

Just a quick note to thank you and all the wonderful staff at Voyager, for making the purchase such a smooth and effortless transaction. We are very happy with our new Jayco trailer, and the incredible Voyager RV service. You all indeed made it "worth the trip" from Alberta . Thanks very much for everything Mike!

Mike H.
Read more...